Hover to Zoom

Hover to Zoom

Hover to Zoom

Hover to Zoom

Hover to Zoom
Yosegi Pattern Art Print 5 x 7"
This print, designed by Crane & Turtle owner Mieko Murao, takes inspiration from "yosegi-zaiku," a type of wood mosaic that developed out of Edo-period Japan. This design plays with the geometry, color, and textures of these mosaics, creating a series of repetitive patterns that are at times three-dimensional, though it only uses five colors.
Product details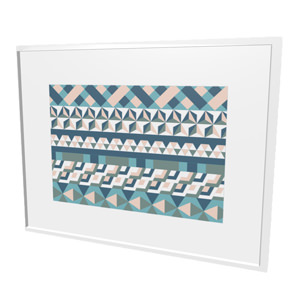 Check AR view (Safari iOS 12 or later with iPhone)
This function allows for viewing the artwork on walls or any space that can be viewed through the iPhone.
This print is available framed for easy hanging.
Also available with an envelope for easy mailing. Give the gift of art!
This Yosegi style artprint is a Crane & Turtle original product, which means you'll only find it at our shop or our friends' shop
Graymist
.

explore more!