Another Bow Zen in the books!
2022-01-06
We envisioned Bow Zen as a break from the stresses of everyday life. A little bit of relaxation---zen---in the midst of a global pandemic and the holiday season. And this year, at our second-ever Bow Zen, we learned something:
Sometimes "zen" doesn't mean alone time. It can mean delight, good food and drink, and art. It can mean a flurry of friends and strangers all basking in togetherness. Zen can be shared.


We were thrilled to bring in so many friends and neighbors to Bow Zen.
This year we introduced vendors to the mix, utilizing the Bloom Collective's handy carts to show off the wares of Dumpling Mart, Club Tanuki, and Japanklyn. Meanwhile, the businesses of Bow Market showed up with special menu items and gift sets just for the occasion. Downstairs, volunteers from Showa Woman's University served up delicious okonomiyaki (savory pancakes with

cabbage and pork), courtesy of Ebisuya Japanese Market, plus tonkatsu sauce and mayo from Saus. We made sure to grab ourselves a plate, too.
So whether you enjoyed some complementary sake samples from Ruby Wines, knocked out some final holiday shopping, or simply browsed the Market during Bow Zen, we'd like to say a big THANK YOU from all of us at Crane & Turtle.
And that includes all of the folks who made Bow Zen possible---from our neighbors at Bow Market to the vendors, okonomiyaki makers, and everyone who spread the word about our event. We couldn't have done it without you!
We hope you were able to enjoy hot chocolate with matcha whipped cream from gâté comme des filles zen cocktails from Tanám, Picnic & Pantry's zen-themed picnic basket, Lo Fi Saison Beer from Remnant Brewery, zen themed graphic macarons from maca, okonomiyaki from Ebisuya Japanese Market with sauce by Saus, Variety Bar's special cocktail "Big in Japan," "Miso Hot Buttered Rum" from Create Gallery & Lounge, and of course our two gift set collaborations with Adorn Me Africa.
The workshops were hits, too: Edible Calligraphy with Rayna Lo and Youji Iwakura, hosted at Tanám. Mindful Doodling with Jen of Tiny Turns Paperie and hosted at Remnant; and meditation and yoga with Zola of Be Easy Meditation, hosted at Variety Bar. And Carlie Febo bundled up against the cold and photographed the event!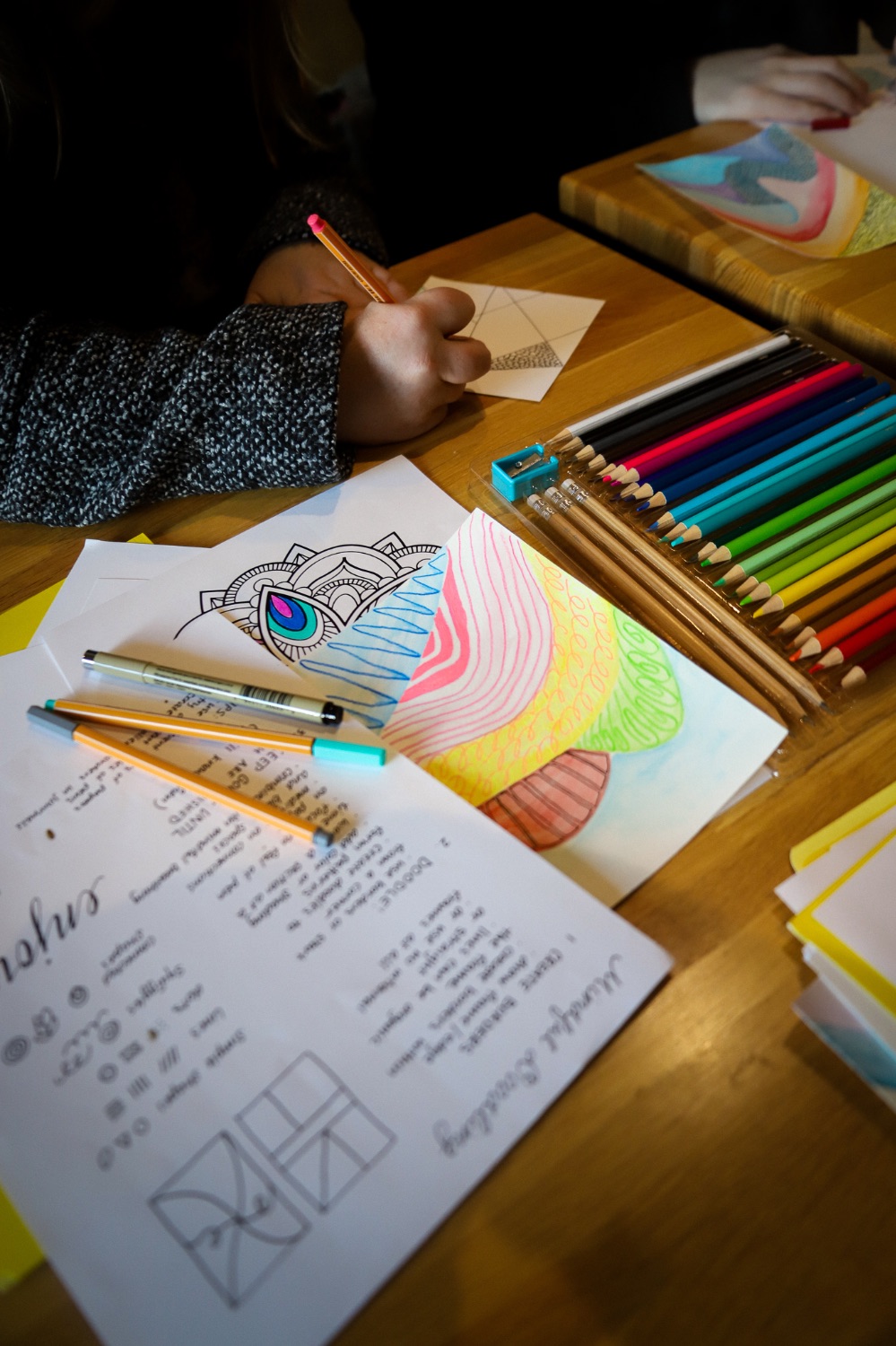 And in case you missed Edible Calligraphy with Rayna Lo and Youji Iwakura, consider this video your chance at enlightenment. We are in awe at this intersection of food and art!
Thank you for coming, folks. We'll see you next year.
PHOTO CERDIT @Carlie Febo
GO BACK TO TOP